How to Properly Maintain Your Trampoline All Year Long
Trampolines are a great way to get active and have fun outdoors all year long. But they do require some maintenance to ensure you aren't constantly replacing parts or, worse, always needing to buy a new trampoline year after year. 
Here are some ways to make sure you properly maintain your trampoline, as well as some of our top tips for finding the right replacement parts if you need them.
Keep Your Trampoline Clean
No matter what time of year it is, keeping your trampoline clean is essential. This means sweeping off any debris accumulated on the surface and wiping down the frame and mat with a damp cloth.
If you live in an area with lots of trees, you may need to do this more often to prevent leaves and sticks from accumulating on the mat.
Depending on the season, there may be additional care tips that you need to know to keep it in good condition year-round.
Trampoline Winter Care
Let's talk about trampoline care during the winter. If you live in an area where it gets cold and snowy, you'll need to take some extra steps to protect your trampoline.
Make sure that you remove all snow and ice from the surface before you use it. This will prevent it from getting damaged or becoming too slippery.
You'll also want to take a look at your trampoline springs. The cold weather can cause the springs to become brittle and break. To prevent this, you should lubricate the springs with a silicone spray. This will help to keep them flexible and prevent them from breaking.
Finally, it would be best if you covered it when it's not in use. This will protect the surface from the elements and help keep it clean. While you can use a tarp to cover it, it's best to get a trampoline weather cover that fits your specific one. You can always buy a cover online.
Protect Your Trampoline from the Rain
Now let's talk about protecting your outdoor trampoline from rain damage. No matter where you live, rain is usually a problem (unless you live in the desert, of course!).
First, you should always make sure that the surface is dry before you use it. Like with snow, the rain will cause it to become slippery and unsafe.
You should also ensure that it is covered when not in use. Too much rain can cause the springs to rust, which can cause even more problems.
You'll also need to make sure that it is adequately drained. Rainwater can pool on the  surface and cause problems, so it's important to make sure that there is a way for the water to drain off. You can do this by making sure that it's on a slope when not in use or by putting a large ball or another object underneath the mat to help rain fall off (just make sure whatever you put underneath won't damage the mat and is removed before use, of course).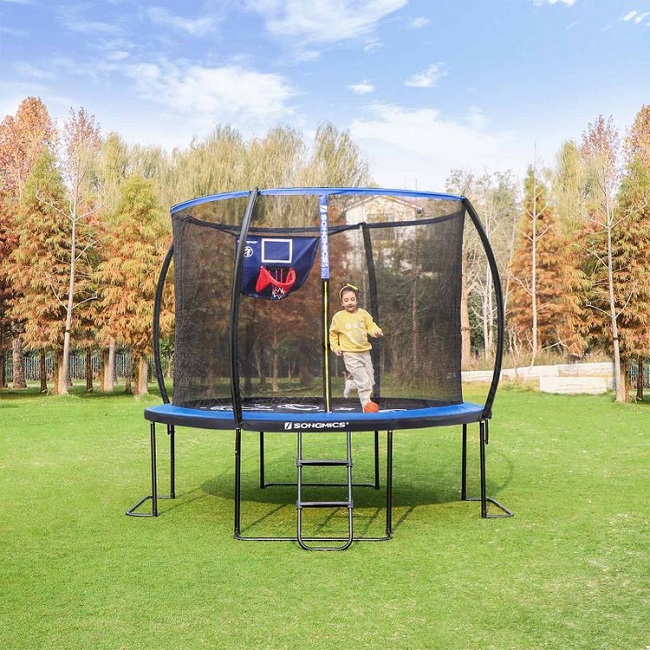 Protect Your Trampoline from the Sun
Believe it or not, it's also essential to protect your trampoline from the sun. Just like all the other examples above, a trampoline cover can save the day!
While it's always fun in the sun, you should make sure you don't leave it out in the sun for too long. The sun can damage the surface and cause it to fade.
A trampoline cover will protect the surface from the sun's UV rays. It's important to make sure that you get a cover that fits yours properly.
Inspect Your Trampoline Regularly
It's also important to regularly inspect your trampoline for any wear and tear signs. Check the frame for rust or corrosion, and make sure that all the bolts are tight. Also, check the mat for any rips or holes. If you find any damage, it's important to repair it with quality replacement parts before use.
Prevent Trampoline Spring Rust
You'll need to take special care of the trampoline springs for reasons other than the elements. They're one of the most important parts -- they provide the bounce that makes trampolining so much fun! But they can also be one of the most vulnerable parts, especially if they're exposed to moisture.
Rust is a significant problem for outdoor trampolines, so it's important to keep an eye on the springs and make sure they're not damaged. You can do this by coating them with a rust-resistant spray.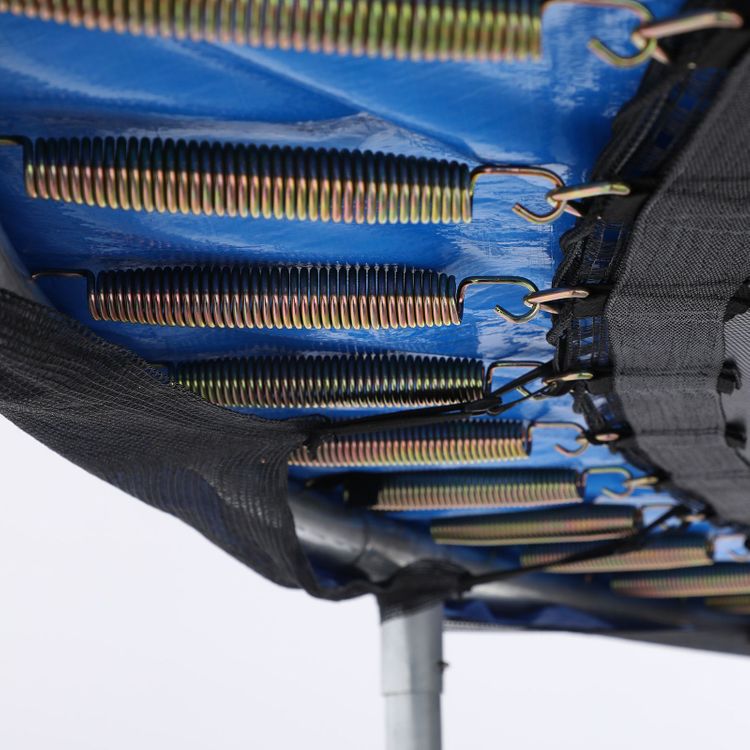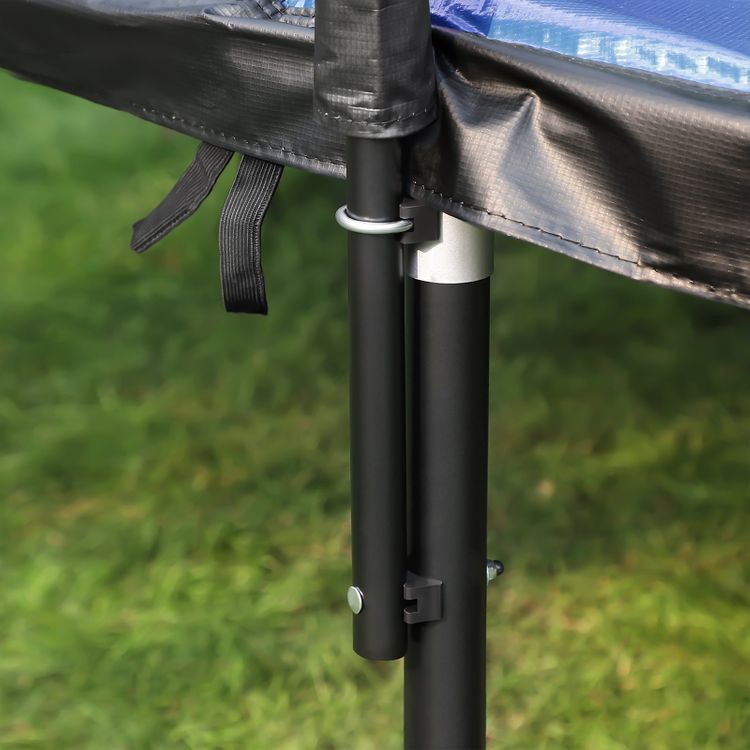 Properly Anchor Your Trampoline
You'll need to make sure that the trampoline is properly anchored to the ground. This will prevent it from blowing away in strong winds that can damage your fence, vehicles, or house.
Of course, the simplest way to do this is by tying it to something heavy, like a tree. However, we only recommend using the safest route: trampoline anchors. 
Tips for Buying Trampoline Replacement Parts
Buying trampoline replacement parts is an important part of maintaining your trampoline. Whether you need to replace a net that has ripped, a mat that has become worn and torn, or springs that have been damaged, there are plenty of options available for finding the right trampoline replacement parts.
1. Find the Correct Part Size for Your Trampoline
Make sure that you buy the correct size replacement parts for your trampoline. You don't want to end up with parts that are too big or too small.
How do I measure my trampoline's size?
To measure your trampoline's size, you'll need to take three measurements:
- The diameter (measure from one side to the other, not including the springs)
- The width (measure from one side to the other, including the springs)
- The height (measure from the ground to the top)
Now that you have all three measurements, you can compare them to the size chart for the replacement parts you're interested in.
2. Check the Part Materials
Replacement legs, for example, can be made of different materials like steel or aluminum. You'll want to decide which material is best for you based on your budget, the weight limit, and how often you plan on using it.
The same goes for trampoline replacement poles -- they come in different sizes, colors, and thicknesses. Do some research to determine which size and type of pole is right for yours.
3. Check the Quality of the Trampoline Replacement Parts
Make sure to check for quality trampoline replacement parts. This is especially important for replacement springs and pads.
You don't want to end up with springs that are too weak or a mat that's too thin. Not only will this reduce the lifespan, but it can also be dangerous. Check the replacement parts' quality by reading reviews online or ask people you know who have purchased trampoline replacement parts before.
4. Make Sure You Have the Proper Tools
Finally, before making a purchase, be sure to check that any necessary tools are included with the trampoline replacement parts you're buying. For example, if you're buying a net, you'll need to make sure that the net comes with straps or hooks that can be used to attach it to your frame. If you're buying springs, you'll need to ensure that the springs come with installation instructions and all of the necessary hardware for attaching them. 
We hope these tips were helpful! Remember, proper care and maintenance of your trampoline will prolong its lifespan so you can enjoy it for years to come.