Trampolines: The Ultimate Buying Guide for 2023
So you've decided to buy a trampoline. Congratulations! They're a great way to exercise, have fun, and spend time with your family. Before you dive in, there are some things you should know first.  
What should you look for when buying a new trampoline? Do you know what size to look for? The shape? How do you choose the right one for you and your family? We'll help you figure that out. Let's go!
Decide on a Trampoline Size
To start, you'll first need to decide what size trampoline you want and need. They come in a few different sizes:
1. Small trampolines: These  are typically round and have a diameter of 6 feet and are perfect for small children or if you have limited space in your backyard.
2. Medium trampolines: Medium trampolines usually have a diameter of 8 to 10 feet, which can provide more space to jump than 6-ft trampolines and are still a good size for smaller yards.
3. Large trampolines: Large trampolines have a diameter of 12 feet or more. They're great for large families or if you entertain often. A large 15-ft trampoline is a great option if you have the space for it.

Check the Materials

Just like how trampolines can come in all different shapes and sizes, they also use different materials.

While most use metal springs, some use elastic bands. Elastic bands are great for smaller rebounders but aren't ideal for large outdoor trampolines. While a frame using galvanized steel is good, a powder-coated galvanized steel frame is even better to help resist rust. The more finely-woven a mat is, the longer it is likely to last.

Understand Trampoline Weight Limits

Make sure to purchase a trampoline that can accommodate everyone using it. If it is only for kids, you won't need as high of a weight limit as you would if you or other adults plan on taking part in the fun.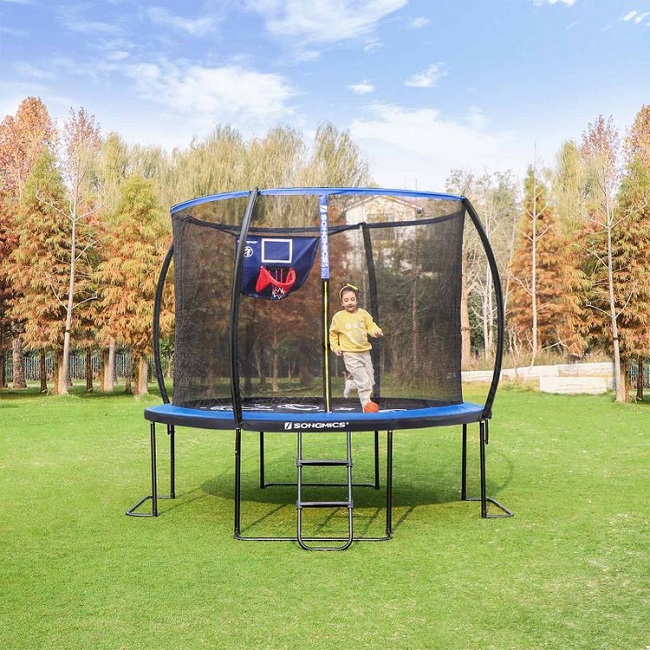 Look for Safety Features

If you have young children, look for a trampoline with all the bells and whistles for safety. A fun trampoline is a safe one!

Here are a few safety features to consider:

- A trampoline safety net: This is one of the most essential safety features. A safety net will surround the perimeter and prevent people from falling off. Bonus points if the safety net has a zipper and buckle to keep it closed when in use.

- Padding: Most come with padding that covers the poles and metal frame. This padding helps prevent serious injuries if someone falls or bumps into the side.

- Springs: Springs are an important safety feature because they help keep the mat in place. Look for springs that are galvanized or have a powder-coating that prevents them from rusting. The number of springs will vary depending on the size and shape of the trampoline. Smaller trampolines typically have fewer springs, while larger ones have more.

- Spring covers: These covers go over the springs and help keep fingers and toes from getting caught, and minimizes the gap between the mat and the frame.

- Anchors: Many outdoor trampolines come with anchors that help keep the trampoline in place, even on windy days. If yours doesn't come with anchors, it may be a good idea to pick some up.

- Non-slip ladder: If it comes with a ladder, ensure that the steps have a non-slip surface to prevent accidental falls.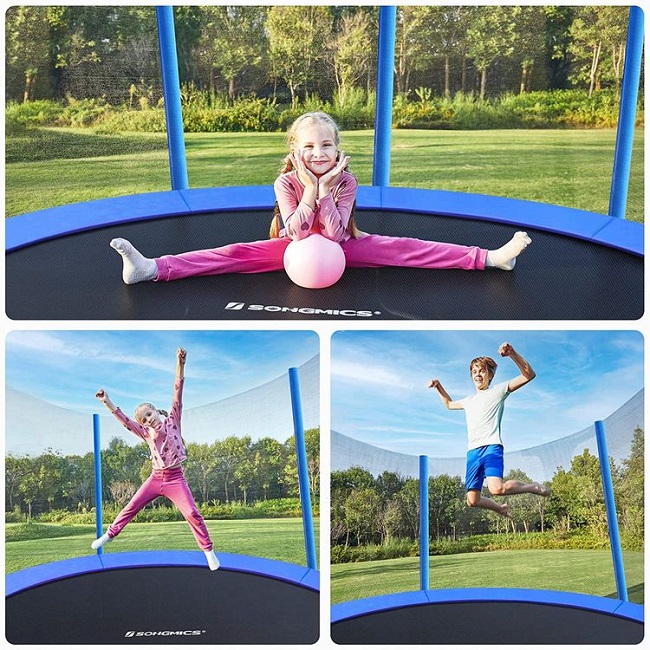 Decide on Any Trampoline Extras

Do you want a trampoline with a ladder? How about a trampoline with a basketball hoop? These are all things to consider when making your purchase. Of course, the more features you have, the more it will cost.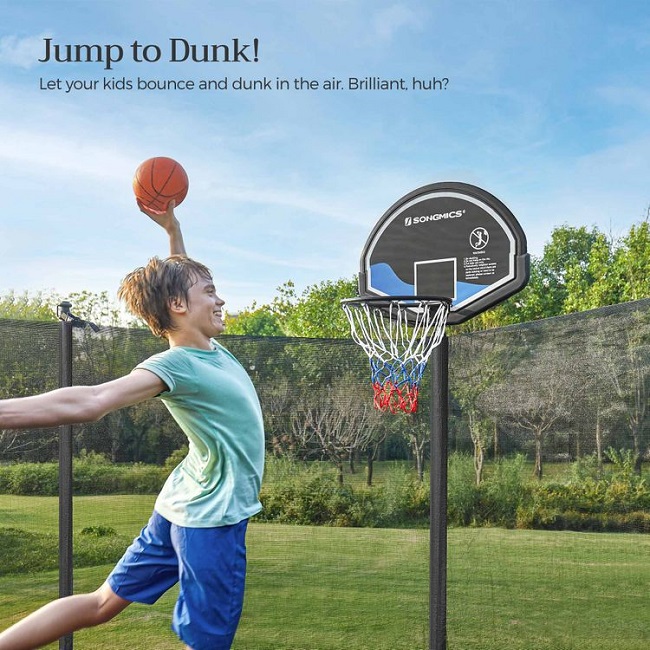 Set a Price

Consider the price. Depending on the type, features, and size, trampolines can range from around $100 to $2000, so be sure to set a budget before you start shopping. Don't go into it with a $300 budget and end up ordering a $1500 one — it won't be as fun if you regret it!

Now that you know what to look for when purchasing a trampoline, it's time to take the plunge and bring one home for your backyard. Just remember to follow the above tips and you'll be sure to find the perfect trampoline for your family. And who knows, maybe you'll even get in on the fun and start bouncing around yourself! Until next time, happy trampolining!